It's easy to complete the waiver process online in advance of your climb. Watch this video or follow the written instructions below.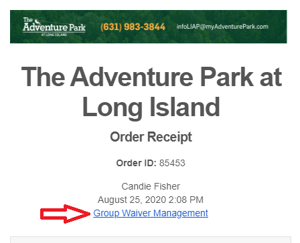 Simply click the Group Waiver Management link in your Order Receipt:
If you do not have the Order Receipt, please contact your group organizer for the Waiver Link.
---
Then, click Sign Waiver Now to complete the waiver for yourself and any minors under 18. You can also email the waiver link to anyone else that will need to completed a waiver.

---
Once the waivers are signed, you simply need to assign the wavier by navigating to the Waivers tab and choosing which events each person will be participating in.

---
Complete instructions can be found in the Group Waiver Management Tool.